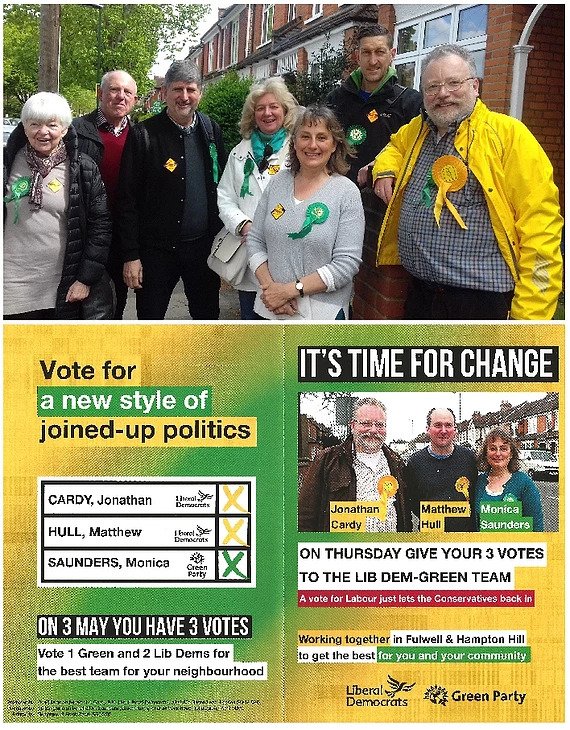 The place names making headlines in today's British local election results are Nuneaton, Derby, Swindon and the London boroughs of Westminster and Wandsworth. But perhaps the most significant story is buried in another London borough, Richmond.
The headline is that the Lib Dems took it from the Conservatives, but there's more to it than that. In the 2014-18 council, the Conservatives had 39 seats and the Lib Dems 15 – this time the Lib Dems have 39 seats, the Tories 11 and the Greens 4. That's a remarkable symmetrical turnaround, but it's the story behind the Greens' four seats that matters. Because this may represent a breakthrough for cross-party cooperation.
In 2016, the Labour MP Lisa Nandy, the Green MP Caroline Lucas and I brought out 'The Alternative', a collection of essays on how Labour, Lib Dems and Greens (and where appropriate Scottish and Welsh nationalists) need to work together if there is ever to be a viable centre-left alternative to the Conservatives at UK level. No sooner had we published than there was a parliamentary by-election in Richmond Park, and, thanks to some sensitive negotiating, the Green candidate Andrée Frieze stood aside and the Lib Dem Sarah Olney won the seat.
Part of that negotiation was that the Lib Dems would be smart (for which read: respectful to the Greens) about the way they targeted the 2018 Richmond borough council elections. The result was that, of the 18 three-councillor wards that make up Richmond, the Greens fielded candidates in six, and in those six the Lib Dems fielded only two. It was an experiment that could have failed; if one party didn't do well, standing a united slate of candidates could have let in centre-right candidates.
I went to Richmond twice in the final week of the campaign to help in two of those six wards. I was keen to see whether this was a tacit pact in which the two parties operated very independently but just didn't stand a full slate of candidates, or whether it was a genuinely cooperative arrangement.
The answer was clear – this was genuinely cooperative. Look at the literature and photo above from Fulwell & Hampton Hill ward, and you'll see there were joint leaflets (alongside single-party leaflets). There was also a cooperative canvassing 'script', in which Lib Dem canvassers wearing yellow rosettes asked receptive residents to use their third vote for the Green candidate, and I'm told the Green canvassers had equivalent scripts. There were joint campaigning sessions, with people of both parties wearing each others' rosettes and stickers (the Green and yellow gave it a rather Australian feel) and making it clear that voters might want to support cooperation between parties even if their hearts weren't beating to a Lib Dem or Green pulse. Canvassers were genuinely campaigning for two parties, a novelty in British politics.
Who benefited more?
If the proof of the pudding is in the eating, it sure seems to have tasted good. Not only did the Lib Dems sweep to control of the council, but the Greens got four of their six candidates elected – probably the best percentage result on any council in the land! They included Andrée Frieze, who got her reward for standing aside in the by-election of December 2016 by being elected to Richmond council. What's more, the Greens chose to put all their efforts in Richmond into two wards, which means they have two councillors who were elected pretty much entirely off the back of Lib Dem efforts.
So who benefited more? At face value, the Greens did because it's possible – though by no means certain – that Lib Dem councillors would have been elected where the Greens got in. But the Lib Dems benefited by having the Greens stand aside not just in December 2016 but at last year's general election, when Vince Cable was re-elected as MP for Twickenham (which covers much of Richmond borough). And it's a lot easier to do well in council elections when you have a respected sitting MP. So both sides profited.
Is this a long-term arrangement? Both parties hope not, in the sense that there is no urge to merge, and in a pluralistic political system, there should be room for both a liberal party and an environmentally-orientated party. Such cooperation as happened in Richmond was a response to the blunt instrument that is the first-past-the-post voting system, and if we ever get proportional elections, both parties can set out their stall without the need for tactical voting and electoral arrangements. But under a proportional system, there would also be more coalitions, so political parties getting used to working together may be good preparation for the future.
For now, I hope the Lib Dem and Green councillors in Richmond can work together. I understand from the Lib Dem leader that there is agreement on both sides not to pursue a coalition, but for the Lib Dems to govern 'in constructive dialogue' with the Greens. It means the Greens will technically belong to the loyal opposition, but hopefully a fair bit more loyal than the 11 Conservatives. This really could be the start of a different form of party politics.